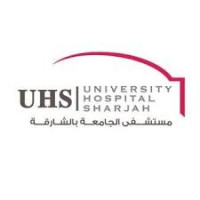 University Hospital (UHS) Sharjah
Hospital
This facilities is not registered in Okadoc yet.
Open Today, 12:00 AM - 12:00 AM
---
Highlights
University Hospital Sharjah's service strengths are:
325 Beds spread across multiple specialities, 34 Emergency beds, 22 ICU beds, 8 Labor & delivery rooms, 7 Operating theatre, 20 Neonatal ICU, 12 Hemodialysis beds, Physiotherapy department and Cardiac catheterization laboratory.
46 Outpatient clinics for most of the specialities.
The first of its kind Center for Breast Care in Sharjah which caters to early detection, treatment and follow up of tumours and other breast diseases. It also provides appropriate surgical and cosmetic solutions for all women.
The regional centre of excellence for maternity care with dedicated theatre suite, fetal assessment unit and ultrasound department.
Level 3 NICU equipped to care for neonatal premature babies born at 23 weeks gestation and above as well as babies born with critical illnesses at all gestational ages.
24/7 Emergency services
24/7 Pharmacy services
---

Dr. Ameenah Mohammed Saady
Gynecologist
Phone number:
+97165058555
---

Dr. Vellore Gopinath
Pediatric Dentist
Phone number:
+97165058555
---

Dr. Atiya Anjum
Dermatologist
Phone number:
+97165058555
---

Dr. Mohamed Sarwat Amr
Neurosurgeon
Phone number:
+97165058555
---

Dr. Suhail Al-Amad
Dentist
Phone number:
+97165058555
Location and Contact
Address
University City, University Street, Sharjah, United Arab Emirates
Show Direction
Opening Hours
Open Today, 12:00 AM - 12:00 AM
Opening Hours
Sunday
12:00 AM - 12:00 AM
Monday
12:00 AM - 12:00 AM
Tuesday
12:00 AM - 12:00 AM
Wednesday
12:00 AM - 12:00 AM
Thursday
12:00 AM - 12:00 AM
Friday
12:00 AM - 12:00 AM
Saturday
12:00 AM - 12:00 AM
About
University Hospital Sharjah is a tertiary care multispecialty hospital located in the campus of University of Sharjah. It has a distinguished team of doctors, nurses and allied health professionals with immense expertise, capable of addressing and managing even the most complicated medical conditions. In addition to the hospital's interest to use the latest technologies in the field of medicine, its proximity to the academic complex of the College of Medicine and Pharmacy at University of Sharjah facilitates academic and scientific affiliation. With the excepetional support and patronage of His Highness Sheikh Dr. Sultan bin Mohammed Al Qassimi, Member of the Supreme Council and Ruler of Sharjah, University Hospital Sharjah will always endeavor to be the leading healthcare provider in the region. Their Vision UHS will be acknowledged as one of the leading Health Care Institutions in the UAE and in the future, the entire region. Their Mission Their mission is to improve the health and well being by delivering exceptional healing experience, unrelenting attention to clinical best practices, patient safety and an unparalleled passion and commitment to exceed patient's expectations, offered in a caring, convenient, compassionate and collaborative care environment. Their Values: - Integrity: They believe in honesty, fairness and self-scrutiny in everything they do. - Quality and Innovation: Continuous compliance with quality improvement systems & standards focused on the unique needs of each patient. They believe the effective pursuit of creative ideas leads to improvements, creating a better future. - Service Excellence: They strive for excellence in their day-to-day operations by means of efficiency, expertise and preeminent patient care. - Respect: They believe in fostering an environment where all are valued and respected, and that respects the cultural heritage of their community. - Team work: They nurture success by promoting collaboration and teamwork to improve patient care and performance; meet community need and anticipate the demands of a dynamic healthcare environment. - Accountability: Accountability to their clients through measurable objectives and clear responsibility and transparency within the whole organization. - Social Responsibility: They will make a positive difference in the lives of the people they serve and contribute positively back to their community, both as an organisation and as individuals.
Recommended clinics available to book now
Show University Hospital (UHS) Sharjah that you want them to be part of the community

Want to get your clinic registered in Okadoc?