AlCady Medical Center, Sharjah
Medical Center
Close Today, 10:00 AM - 08:00 PM
---
---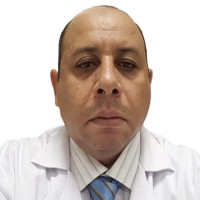 Dr. Thaer M Said Hamad
General Practitioner
Clinic Locations

AlCady Medical Center, Sharjah
About
Al Cady Medical Center in Sharjah was established in 2016. Since then, the medical centre has been a leading Dental Care for patients in the Abu Dhabi area. With its tagline "Dental Attention You Can Rely On", Al Cady guarantees top of the line dental services for its patients. The clinic operates Saturday – Thursday from 09.00 AM to 08.00 PM.
Located in Abu Dhabi, Al Cady Medical Center is easily accessible to everyone in the area. It is committed to providing exceptional care in a compassionate and friendly atmosphere. The clinic believes that the patients deserve the best care, so the staffs and doctors always make sure that everyone always feels welcome.
The services provided here include Direct and Indirect Veneers, Non-prep Veneers, Teeth Whitening, Instant Smile, Dental Surgery, Tooth Extraction, Composite Filling, and Pedodontic Treatment for all age groups.