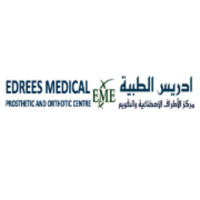 Edrees Medical Prosthetic and Orthotic Centre
Medical Center
Dubai Healthcare City, Dubai
---
Location & Contact
Address
Ibn Rushd Building, No. 33, G- Floor, Premise No. 2, Dubai, UAE
Show Direction
Opening Hours
Closed Today
About
Edrees Medical Prosthetic and Orthotic Center in Dubai Healthcare City is here to improve people's quality of life. Edrees Medical Prosthetic and Orthotic Center serve regional and national facilities and work closely with the prescribers, clinics, therapists, nursing and health facilities and payers.
With many years of experience in the field of orthopaedic technology, rehabilitation technology, and child special care, the clinic guarantees a consistently high level of care and consulting quality for its patients.
The clinic also has a charity program called "Free Camp" to support the unfortunate people of society. This program allowed a patient to get treated by a well-qualified doctor for free.