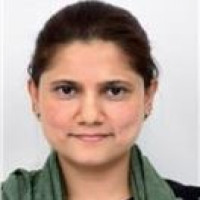 مستشار الطب النفسي
متاح اليوم،,  من 04:00 PM في  NMC Medical Centre Rollax
متاح اليوم،, من 04:00 PM at this clinic
---
موقع العيادة
NMC Medical Centre Rolla
العنوان
Zero Floor, Habib Zurich AG Bank Building, Bank Street, Rolla, P.O. Box: 64684, Sharjah, United Arab Emirates
عرض الاتجاهات
ساعات العمل
مغلق اليوم،, من 4:00 pm
عن الطبيب
She completed her Masters in Social Work (MSW) from Rajagiri College of Social Sciences, South India, M Phil in Special Education from Avinashlingam Deemed University, South India, B.Ed. in Special Education and Integrated Education from Rehabilitation Council of India (RCI) in collaboration with Bhoj University, Central India.
She has more than 16 years of experience and has worked in various reputed organizations.
الأعراض
Developmental Disabilities (Autism, Mental Retardation, Speech delay, poor motor skills and poor concept development)
Restless and fidgety children
Academic and Behaviour Intervention
Behaviour issues (Attention Deficit disorders, stealing, lying, bullying, difficult to control children at home/school)
Emotional issues (quiet/fearful/introvert/bullied children)
Academic issues- From KG classes onwards /Difficulty with academic skills (all grades)
الخبرة Specialist Social Worker "A"
NMC Medical Centre Rolla
المؤهلات العلمية
-
Masters in Social Work (MSW)
Rajagiri College of Social Sciences
India
-
MPhil in Special Education
Avinashlingam Deemed University
India